How does it work?

Merkato is an open and highly scalable platform; its interfaces are written in java and HTML for quick implementation and ease-of-use.  The physical architecture places Merkato servers at network edges, between the provider and customer.  The platform is then run and managed by the service provider selling services.
Merkato creates a spot marketplace to price, sell and allocate IP capacity dynamically and in real-time.  It conducts an auction to collect bids for available bandwidth from multiple buyers. The bids, based on buyers' purchasing parameters, are analyzed to determine the fair market price for bandwidth at that moment, taking into account the sellers' supply and the buyers' demands.  Auctions close within 5 minutes, at which time bandwidth allocations are determined for each buyer. These allocations are then provisioned in real-time through a networks' switches and routers.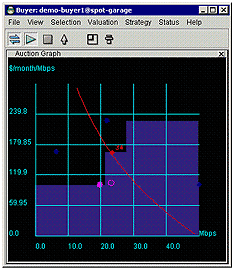 These auctions are governed by a patented algorithm unique to Merkato – the Progressive Second Price Auction.
Additionally, Merkato enables a reservation market, which represents a derivative market. The reservation market allows bandwidth buyers to request a fixed amount of bandwidth for a specified period of time ranging from minutes to months.  The reservation market gives buyers the ability to satisfy upcoming and predicted bandwidth requirements, while providing sellers with an accurate forecast of future network demand. The reservation market in it's simplest form is based on a tiered pricing structure (much like the "rate cards" used by service providers today). A more sophisticated market uses another unique algorithm called the "Hold Option", a derivative market instrument which dynamically prices the reservation as an option on bandwidth.