Automated Intelligent Agents

Software agents interact on behalf of buyers and sellers. Buyers configure their agents with buying parameters based on price, budget and quantity.  Sellers configure their agents to set the total supply of bandwidth for sale and establish a minimum price for that quantity. Buyer agents then submit bids and enter into the marketplace to begin purchasing.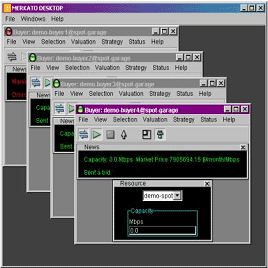 The bids are submitted to a third type of agent, called a Resource agent. The Resource agent conducts the auction. It informs all bidders of available bandwidth, accepts bids from active bidders, determines provisional allocations for each bidder based on the algorithms referred to above, calculates a market price, and informs all bidders of the allocations they will receive.  The Resource agent then informs bidders of the final results, sends allocation information to network elements for provisioning, and sends billing information to the accounting database. These actions occur during each auction round.
All of this is an automated process and can run from a desktop, or managed remotely, using a choice of one of two interfaces: An HTML-based browser interface or a Java-based desktop interface.  A configuration wizard is also available to help buyers and sellers create buying and selling strategies.